LOCATION
Puerto Vallarta, Mexico
April 11 - April 18, 2020
Join us for our 2nd year of the S.O.C.H.A. yoga experience in the lovely Puerto Vallarta, Mexico.
Immerse yourself in an 8 day/7 Night Yoga Eco-Retreat with one of LA's Top Yoga Teachers, Cornelius Jones. Cornelius Brings together a diverse group of socially conscious & gifted individuals eager to grow through connection of the shared human experience bridged through the practice of yoga. This is an open level experience in the styles of Vinyasa, Power Yoga & Yoga Sculpt flow, intertwined with morning meditations, morning journal for intention and goal setting, core fitness & movement+dance workshops, stretch labs, and inversion workshops.

Our retreat will be hosted at Xinalani Yoga & Spa Retreat Center located in the village of Quimixto, which is only accessible by boat. Find out more about Xinalani Retreat Center at www.xinalaniretreat.com
RESORT
Xinalani Hotel
& Spa
Xinalani offers an unparalleled retreat experience: authentic and magical, immersed in lush jungle surroundings with views of the emerald ocean. Sleep in beautiful eco-chic accommodations, enjoy delicious and healthy Mexican food, and practice yoga in world-class open-air and heated yoga studios.
OVERVIEW
A Day in Your Yoga Retreat
We will begin Day 1 of the retreat with a Meet & Greet to set a powerful intention to prepare you for the transformative experience you are embarking on. Day 2 and there on, Wake up with tea or coffee, sit quietly or connect with your fellow yogis, or hang out in a hammock listening to the morning sea and catching a glimpse of the sunrise. Following morning Tea/Coffee we will partake in Yoga Session 1. Cornelius will lead you through an invigorating gentle flow that will wake and align your body and mind with your inner best for the day. Morning practice will be followed by meditational "word" for the day, followed by journal reflecting, and then a Yoga/Fitness based workshop (yoga/fitness workshops will vary each day).
We release for breakfast after our morning session. So, enjoy a healthy breakfast and free time for whatever your heart desires. There are plenty onsite and offsite activities and adventures to be enjoyed making each day an exceptionally unique experience. One of our favorite's: Jungle Trek to the nearby waterfalls. Experience the local land of Quimixto as you make your way to a refreshing & breathtaking waterfall.
Lunch will be healthy and planned to your needs with healthy gourmet vegetarian and non-vegetarian foods inspired by delicious traditional Mexican recipes.
After lunch chose to spend your time relaxing in your personal hammock, receiving a massage, enjoying one of the many optional eco adventure excursions or on the beach connecting with like-minded fellow yogis. Enjoy an optional afternoon Jungle hike to Las Animais beach town. Swimming, snorkeling, kayaking, beach walks are always available at your leisure on Xinalani' s private beach or take a very short walk to Quimixto's beach where you can chill with the locals.
Yoga session 2 will start in the earlier evening, a few hours before dinner and will be held for at least 1 hour at the Aerial Studio or the Jungle Studio. The Aerial studio is a majestic all-purpose yoga studio designed without handrails, all open air, wooden floors, palapa roof, and stunning ocean views. The Jungle Studio is a magnificent palm-thatched roofed temple situated on a hilltop with dramatic ocean views. The Jungle Studio is Xinalani' s most awe-inspiring yoga studio. Dinner will be served at 7:30PM and feel free, after dinner, to unwind in our Lounge/Bar in the heart of Xinalani, down the mountain and near the beach. It's the perfect place to enjoy music and meet new people, or simply relax and watch the world go by or the birds fish.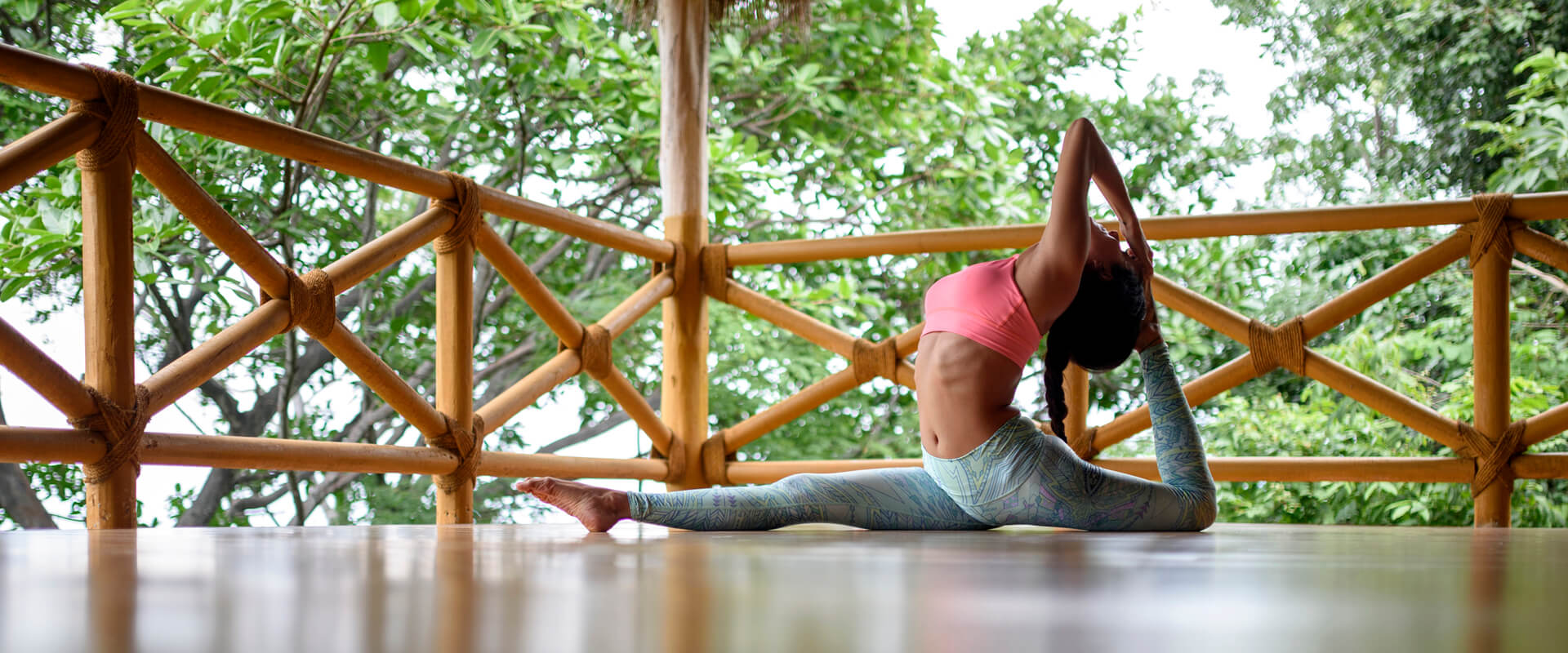 YOGA SESSION 1
GREENHOUSE OR HOT YOGA STUDIO
WORKSHOP SESSION
AERIAL OR JUNGLE YOGA STUDIO
FREE TIME: OFFSITE ACTIVITIES / ADVENTURES
FREE TIME: OFFSITE ACTIVITIES / ADVENTURES
YOGA SESSION 2
JUNGLE OR AERIAL YOGA STUDIO
THE WINE DOWN
BAR/LOUNGE BY THE SEA
***SCHEDULE IS SUBJECT TO CHANGE WITH A MIDWEEK ADJUSTMENT***
NATURE
Explore Quimixto
Indulge daily, during free time, and learn more about the eco-sustainable community of Quimixto and maybe venture through the lush and plush jungle to experience the exquisite waterfall nearby. Take a walking hike to neighboring eco-friendly village Las Animas, or take a river boat for shopping in the village of Yelapa. Go for afternoon excursion, by boat, and explore the culture of Puerto Vallarta Old Town.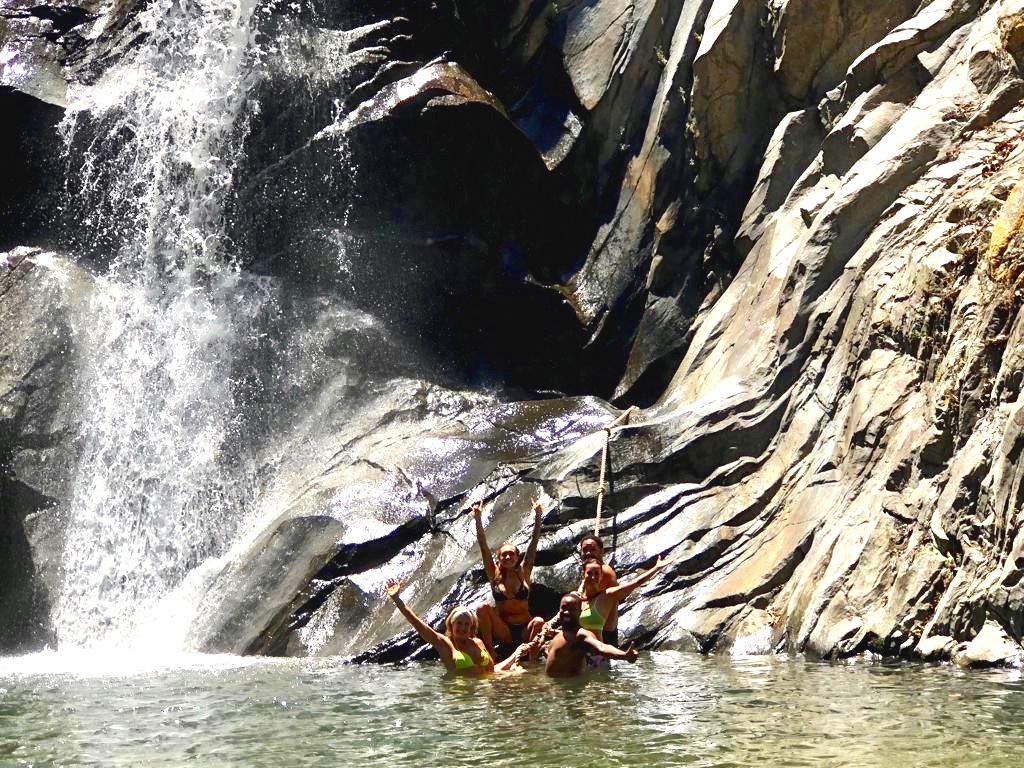 LEISURE
Activities
At your leisure indulge in on-site kayaking, snorkeling, Temazcal & salsa dance lessons or pamper yourself with spa treatments and/or massage services.
We practice
I hear many people say, when I invite them to a yoga class: "I'm not Flexible or One day I will do it." You will continue to have too many days of not doing anything in a non-flexible body, if you let tiny excuses shrink you. When we're non-flexible in our physical bodies, most times we're non-flexible in our spiritual bodies. We practice to grow. Not for perfection but for growth & physical lightness and spiritual liteness. Somedays will feel like pure victory, other days defeat, and then you'll have the days where its just Ok, meh. Always give your best, not your neighbors best or best friend's best. Your best, which is the YOU that showed up. Nothing more nothing less.
Anything is possible when we remove the goggles of limitation and replace with the spectacles of limitless.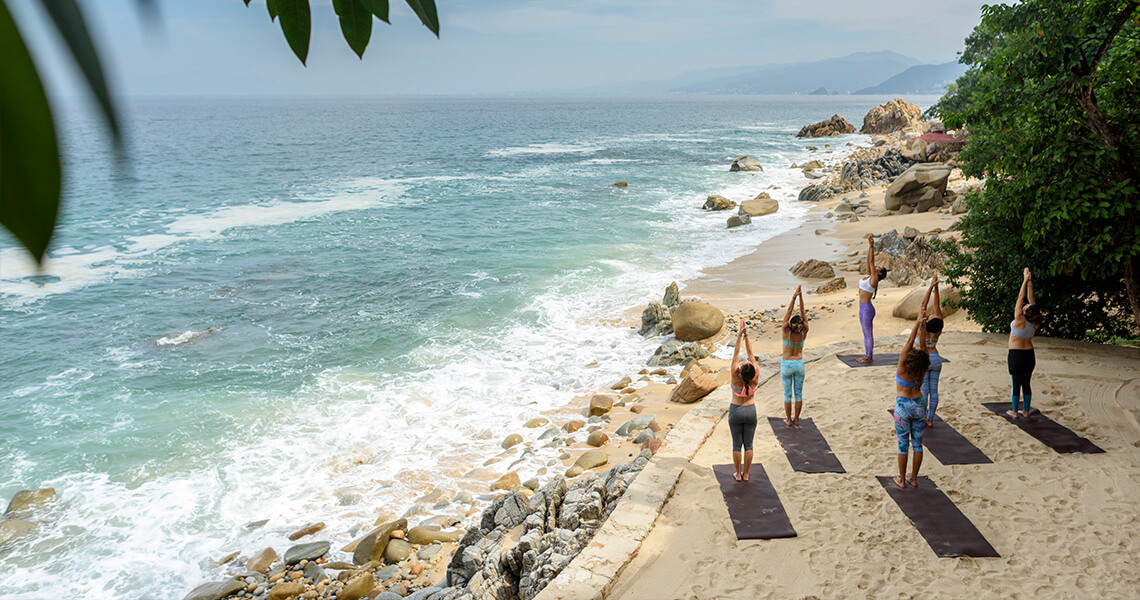 DINING
Organic Cuisine
You will also love the chic and tranquil lounge bar, overlooking the ocean, a perfect place to chill with music, read a book, meet new people, wake up with a cappuccino, rehydrate with fresh coconut water, or unwind with a glass of wine, spirits, or a lovely margarita, this oceanfront palapa, with its own private beach, is a gem and you'll love it.
BIG Palapa (1 Bed/Dorm Style)
Deluxe Room
Petite Suite
Eco-Chic Suite
EARLY BIRD SPECIAL BOOK BY:
OCTOBER 31, 2019 AND RECEIVE $250 OFF TOTAL PACKAGE.
USE CODE: SOCHA250
SINGLE OCCUPANCY
$1850
$2655
$3075
$3530
DOUBLE OCCUPANCY
$2095
$2305
$2655
All packages include:
Selected accommodation • 3 deliciously healthful meals served daily • Coffee, tea, fruit & granola
2 Daily yoga classes and Daily Workshops • Daily guided morning Meditation
Snorkel Equipment • KAYAK • Beach Bonfire • Live Music Night • Salsa Dance Lesson • Airport transfers and Boat ride to retreat center
All taxes • Early Bird Discounts Available